Medium:
Television
Fandom:
House, MD
Subject:
House/Cuddy
Title:
Original Sin
Warning:
Spoilers for Season 5
Notes:
A House/Cuddy fan mix inspired by the story of Adam & Eve – because the Adam & Eve-esque lyrics of these tracks seemed to parallel quite nicely with the House/Cuddy relationship. And because I can, :). My first fan mix, hope you enjoy it *crosses fingers*. Plus a matching wallpaper and some icons!!!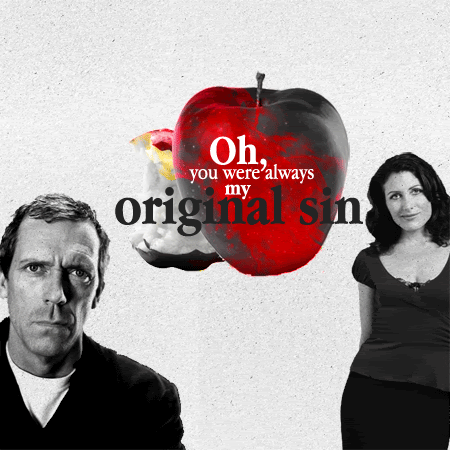 DOWNLOAD HERE; Original Sin.rar
01. Elton John – Original Sin
Tell me how, you know now, the ways and means of getting underneath my skin,
Oh, you were always my original sin,
And tell me why, I shudder inside, every time we begin this dangerous game,
Oh, you were always my original sin
02. Sarah Brightman – Eden
Did I ever think of you, as my enemy?
Did you ever think of me? I'm not complaining
03. Smashing Pumpkins – Rotten Apples [Live – Acoustic]
Dirty your face with longing and grace, God-given
Suffer your heart and love her when your love goes unrequited
04. Crowded House – Into Temptation
You opened up your door, couldn't believe my luck,
You in your new blue dress, taking away my breath
05. The Veils; Under the Folding Branches
Go, spin me around under the folding branches,
Now, It's not too late, heaven can wait another year or so,
For I loved you once, didn't I?
There I loved you once, didn't I?
06. Ani DiFranco – Adam & Eve
You put a tiny pinprick in my big red balloon,
And as I slowly start to exhale, that's when you leave the room,
I did not design this game,
I did not name the stakes,
I just happen to like apples,
And I am not afraid of snakes
07. Dave Matthews Band – The Dreaming Tree
Now he's falling hard, he feels the falling dark,
How he longs to be, beneath his dreaming tree
-
Now she's falling hard, she feels the fall of dark,
How did this fall apart? She drinks to fill it up
08. The Hush Sound – Wine Red
This chaos, this calamity, this garden once was perfect
Give your immortality to me; I will set you up against the stars
09. Ryan Adams – Two
I'm fractured from the fall
And I wanna go home
But it takes two when it used to take one
It takes two when it used to take one
10. The White Stripes – Dead Leaves & the Dirty Ground
I didn't feel so bad, 'til the sun went down,
No one to wrap my arms around
Wrap my arms around
11. Damien Rice – Rootless Tree
What I want from us, is into our minds,
But we fake at first, and fracture the times,
We go blind when we've needed to see
And it leans on me like a rootless (tree)
12. Erykah Badu – Apple Tree
And if you don't want to be down with me
Then you don't want to pick from my apple tree x3
And if you don't want to be down with me, then you just don't want to be down
13. Iron & Wine – Evening on the Ground (Lilith's Song)
Blame me for the rocks and baby bones
And broken lock on our garden,
Garden walls of eden,
Full of spiderbites and all your lovers,
We were, we were born to fuck each other
One way or another
14. Jason Mraz – Only Human
Are you a riddle to solve all along?
Or am I overthinking thoughts? I'm human after all
Only human, made of flesh, made of sand,
Made of human
15. Wolfmother – Apple Tree
Your daughter is so fine to see, unraveled some mystery in me,
And when I see the apple in disguise, oh my love I can recognize
wallpaper;
800x600
1024x768
1280x1024
1440x990
icons;
01.
02.
03.

04.
05.

PLEASE comment and credit if possible (either
hollow13
or
thatorphansky
). Thank you and most importantly, enjoy.
a feeling of:
accomplished
the sound of: believe me natalie - the killers